Control Bounder, a tennis ball, as you bounce through each level, bouncing only on the grey slabs. If you miss, Bounder falls to his death. You cannot bounce over mountains or walls, so you must go around. Any collision costs Bounder another life. There is one major exception: you can bounce on plain green grass from level seven onwards.
Playing the Game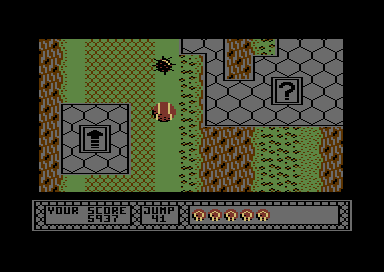 Move Bounder (the tennis ball) around the screen, bouncing on grey slabs only. If you miss, you fall and lose a life. Be sure to identify mountains and walls as you can't go over them, you must go around. Any collision means you lose a life.
As a rule of thumb: IF IT ISN'T GREY, THEN AVOID IT!
However, there is one major exception, and that is that you can bounce on grass, represented by plain green in the game. This will not appear until level 7.
These aliens destroy you:
BINOCULOIDS STICKITS MOSCITA BIRDS CHOMPER DOMES PTERRIES COINS EXOCETS etc.
Useful aliens are:
TELEPORTS JUMP BONUSES BONUS BUGS COPYRIGHT CANS
Trial and error will help you identify which ones are which.
Slabs with arrows give you just over twice the time in the air. This allows you to make longer jumps, and if you feel inclined, a few fancy aerobatics (Not recommended for beginners).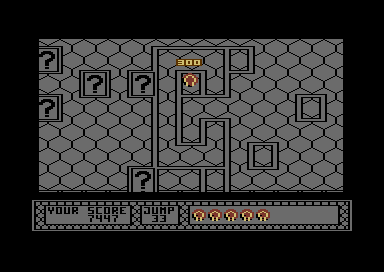 Slabs with question marks give you a mystery bonus, some good, some fair, but most of 'em bad. Careful planning and the use of a map are essential. Use the pause control to help you map the screens.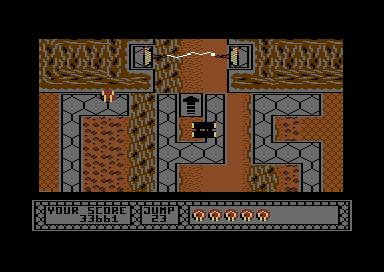 After each level, there is a bonus stage. Bounce on as many question marks as possible. Clearing all question marks will earn you a bonus. Each jump unused adds to your bonus score.
---
Controls
| Function | Description |
| --- | --- |
| RESTORE | Returns you to title page |
| CTRL | Pause mode on |
| FIRE | Pause mode off |
All movement control is from the Joystick.
---
Credits
PROGRAMMER: Christian Shrigley, Andrew Green, Robert Toone
MUSICIAN: Christian Shrigley