We didn't listen to the warnings. We decided to ignore the global decline of bees, and now their guardians have arrived. You must pilot the 1981 Galencia Fighter spacecraft and restore order, before it's too late!
Scenario
Galencia is the winner of the Reset64 Magazine 2017 Commodore 64 Game of the Year Award. It is a colourful, highly polished, Galaga inspired single-screen shoot-em-up. This full special THEC64 edition of Galencia is only available on THEC64 Mini if running firmware 1.2.0 and above. Jay has worked really hard to produce a special version of Galencia just for THEC64 Mini and it's 720p display, and it makes maximum use of the upper and lower borders for graphics, right up to the edge of the screen! Be aware however, that some HD TVs might crop some of these border graphics when displaying the 720p image. This is not a fault with Galencia or the Mini and we recommend that you refer to your TV settings.
We didn't listen to the warnings.
We decided to ignore the decline of our bee population, and now their guardians have arrived.
You must pilot the 1981 Galencia Fighter and restore order. Before its too late!
50 Action Packed Levels. Asteroid Fields. Challenging Stages. Boss Battles. Ebb and Flow difficulty curve. Siren enemy with Tractor beam for Double Ship Action. Introduction, Launch and Completion sequences
THE STORY SO FAR…
Three million years ago a devastating civil war on the planet Yenoh almost wiped out the population of bees from the universe. With only a few hundred bees alive The Guardians (giant queen bees) had little choice but to abandon their home planet and rescue as many infant bees as possible from extinction. 100 Bees lefy Yenoh under the protection of The Guardians looking for a new home where they could live in peace. The Guardians coured the universe for the perfect habitat. Many planets were either too hot or too cold but eventually The Guardians found a world with the perfect habitat – Earth.
The bees quickly settled in to their new home pollinating Earth;s flowers and producing their delicious honey. Happy that the bees were now safe, the Guardians left Earth to find their own home in a distant corner of the universe.
For millions of years the bees lived in harmony with the rest of the natural world. They witnessed the dawn and death of the dinosaurs and the birth of mankind. the bees were a little wary of man as he was a destructive creature with a desire for power and a hunger for honey. But for thousands of years man and bees lived happily side by side neither posing a threat to the other.
It wasn't until the latter years of the 20th Century that things began to change. Environmental damage caused by mass deforestation and pollution destroyed more and more of the bee's habitat while powerful farming pesticides killed millions of bees on a scale not seen since the time of the war on Yenoh. Within decades the bee population dropped by 50% and as the 21st Century arrived the decline continued at an alarming rate.
By 2017 only a few thousand bees remained. news of their near extinction spread across the universe and on Nitram, a far-flung planet on the outer reaches of the galaxy, The Guardians heeded the call.
Within 24 hours sswarms of Guardians had attacked human settlements across Earth. London, Paris, Tokyo and new York were hit by swarms of killer bees which left thousands dead.
A global emergency was called and world leaders agreed that an armed and manned rocket ship would be launched from the I.S.S. Its mission would be to attack The Guardians who were gathered in space just outside the Earth's atmosphere. A crack team of military experts were assembled by Amy Starbanger, a renowned NASA scientist. Other than science, Amy loved three things more than anytihng else in life - her pet monkey Boo, classic 1980s videogames and bad jokes laced with innuendo.
Inspired by the legendary 1981 class fighters, Amy quickly designed the Galencia rocket ship. Galencia was cutting edge military technology and required a pilot of outstanding skills to fly it.
There was only one man for the job - Ace Harper. Ace had a glittering medal collection, a fearless reputation and - most importantly - he was the greatest fighter pilot that ever lived.
The call went out and Ace agreed but insisted that his luck mascot (his pet dog Roxy) could come along for the ride. Amy accepted. Ace was handed the keys to the Galencia and told to get out there and save mankind.
Now, it's all in your hands Commander!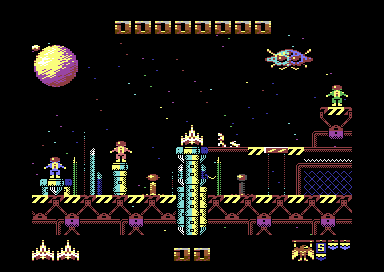 ACE HARPER
RANK - FORMER PATROL LEADER AGE - 45 YEARS STAR SIGN - SCORPIO NOTES - COMMITTED, LOYAL, DEADLY MILITARY RECORD - RETIRED AFTER PSYCH-EVALUATION FOLLOWING THE INVASION OF EARTH. SOLO MISSIONS ONLY. TOO RECKLESS TO COMMAND.
AMY STARBANGER
RANK - COMMUNICATIONS AND ENGINEERING AGE - 24 YEARS STAR SIGN - PISCES NOTES - DIVINITY MODIFICATION INSTALLED IN 2011. ODDLY ATTRACTED TO PILOTS. MILITARY RECORD - SERVED IN THE LEGENDARY RED MOON PATROL UNDER THE DIRECT COMMAND OF BARON WINDER. EXEMPLARY RECORD. REFUSING PROMOTION TO KEEP HER PATROL SAFE.
---
Game Options
Before you press either FIRE button to start the game, you can change options by pressing TR on THEC64 Joystick, or by selecting the F1 function key on the virtual keyboard or on a connected USB keyboard.
| Option | Function | Details |
| --- | --- | --- |
| STARFIELD SHADE | COLOUR, DUO, MONO | Select to suit your eyes and monitor |
| SCORE PALETTE | ARIZONA, LIQUID, PLATINUM | Choose your favourite colours |
| HI SCORE TABLE | RESET | Instantly clear the High Score table |
| IN GAME MUSIC | ON, OFF | Toggle the in game music on and off |
| TOURNAMENT MODE | OFF, ON | When enabled, you have a single life and no way to gain more |
| GAME DIFFICULTY | EASY, NORMAL, PRO | Select to match your ability |
RETURN TO GAME takes you back to the Main Menu.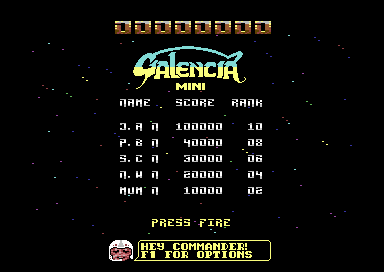 Hi Scores will show a T if it's a Tournament score. The difficulty is marked with an (E)asy, (N)ormal or (P)ro
---
Playing the Game
There are 50 stages to battle through.
The premise is simple; survive for as long as possible against 50 waves of ebb and flow difficulty!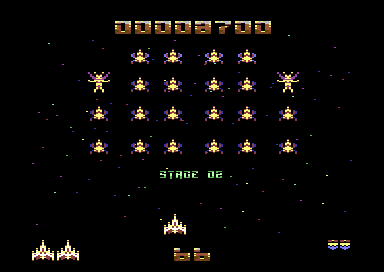 Destroy all aliens, discover the hidden secrets of the Sirens and learn how to earn a double fighter ability.
Don't miss on the Challenging Stages for incredible bonuses.
Use your piloting skills in a game of risk and reward in the Asteroid fields.
SIRENS
Sirens are different to other enemies you might encounter. they have an irresistible tractor beam, known in the academy as the 'Siren's Call'. If your fighter is close enough to the beam, you will lose control and the fighter will become captured.
Once captured you have a chance to regain control of the fighter by shooting the Siren when she attacks. be careful not to shoot the Siren in formation and avoid shooting the captured fighter or you will lose the ship for good!
Once you have freed the captured fighter, you will be rewarded with a double fighter. Now you have double the firepower. Take care as a double fighter is also a double-sized target!
Keep an eye on the timer. If it gets too low, Sirens will call in reinforcements.
CHALLENGING STAGES
You will encounter challenging stages at levels 5, 15, 35 and 45.
Each challenging stage is more difficult than the last one.
There are incredible bonuses available for hot shot pilots, including Extra Lives, Twin Ships and Promethean Stars.
Simple advice: don't miss!
ASTEROID FIELDS
Asteroid fields appear at levels 10, 20, 30 and 40.
They are extremely dangerous and present the player with a risk and reward challenge.
You can either take it easy and try to simply survive , or risk it all to collect Promethean Stars worth an incredible 10,000 points each.
Remember that you will earn an extra life every 100,000 points!
BOSS BATTLES
Commander, we have detected two huge life forms.
One is approximately halfway through the enemy armada and the second is trailing at the back of the armada.
Both these life forms seem to be flanked by huge ion cannons. Take care as you approach these sectors.
Be sure to listen to Amy!
ADVANCED GAMEPLAY
There are different rewards available for players using different styles. Will you try to clear the levels as fast as possible and reap the bonus for seconds remaining on the timer? Or will you take your time and maximise the points available for shooting down bees as they attack?
Think about what might be coming up next. A double ship sure is handy for those challenging stages but not so useful in the asteroid fields!
Is it best to clear the bees by columns or by rows? What happens if you clear them in a specific order? Are there any hidden bonuses to discover?
Have an experiment and find out!
There are lots of things happening 'under the hood' and careful observation will help you learn the secrets of Galencia.
---
Assembly environment CBM PRG STUDIO by Arthur Jordison
Sprites SPRITEPAD by Subchrist Software
Backgrounds and characters CHARPAD by Subchrist Software
Music and sound effects GOATTRACKER by Cadaver of Covert Bitstops
Data compression EXOMIZER by Magnus Lind
The best resource for C64 assembly coding CODEBASE64.ORG - You guys rock!
---
Credits
CODE & GRAPHICS: Jason Aldred
MUSIC & SFX: Pulsebot
CONCEPT ART: Flemming Dupont
GRAPHICS & SFX: Saul Cross
PROTOVISION: Jakob Chen-Voos
BOX & MANUAL: Lobo
SPECIAL THANKS: Indian Nick Winder
INTRODUCTION STORY: Martin C Grundy
MANUAL BACK COVER: Mark Hardisty