Winter is coming and Monty Mole needs warmth. Raid the local pit mine, filling Monty's bucket with coal as he avoids flying pickets, mammal-eating fish, coal crushers, roaming drills and disappearing floors. Find worms to replenish some energy. Escaping the mine is just the start. Guide Monty through Arthur's castle, collecting ballot papers and scrolls.
Scenario
With a long cold winter and bone chilling Christmas ahead, Monty Mole makes a daring, coal snatching raid to his local South Yorkshire pit. Grabbing a miner's bucket he heads off into the darkness, soon to wish he'd caught a cold instead. Alas there's no turning back. Onward to do battle with flying pickets and mammal eating fish; filling his bucket as he dodges the trundling coal crushers and roaming coal drills; keeping an eye on the constantly disappearing floor. With his bucket filled, Monty makes his escape, only to surface in Arthur's castle where his way is blocked by a fiery figure seated on a graphite throne. Seizing his only chance of toppling the great man Monty collects the secret ballot papers and vote casting scroll. But Arthur's no fool when it comes to the heavy stuff and his personal bodyguard of super fit pickets and deadly flying hairsprays, put up an almighty struggle with our valiant Mole.
Features: Flying pickets, Poisonous gas, Deadly hairsprays, Coal drills, Coal crushers, Underground railway, Miners helmets, Acid baths, Candles, Springing jacks, Bats and many more devious distractions. Protective shields, Coal truck (shield) and Energising boxes of worms (look in tree!).
---
Playing the Game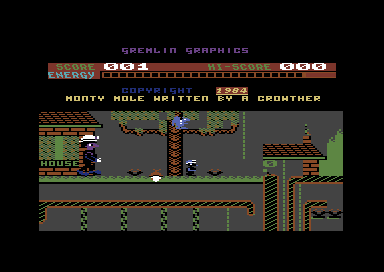 How to score
| Description | Points |
| --- | --- |
| Collect bucket | 1 |
| Each coal nugget collected (maximum 13) | 1 |
How to play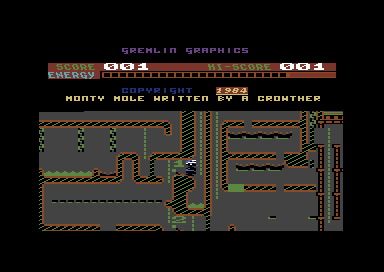 Use a joystick to move Monty. Press FIRE to jump, then UP to climb.
Other controls
| Function | Where | Key |
| --- | --- | --- |
| Change level (easy/hard) | Title screen | F1 |
| Restart game | During game | Restore |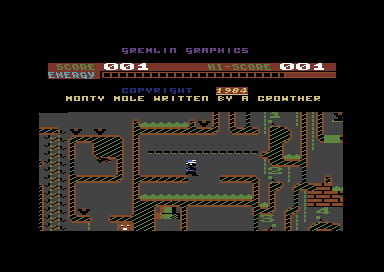 ---
Credits
PROGRAMMER: Anthony Crowther
MUSICIAN: Anthony Crowther