Take control of Brutal Deluxe, the worst team in history. Choose from one or two-player games, knockout matches, leagues, the cup or a practice match. Buy and sell players to improve your team. Send players to the gym to improve their attributes. Use pick-ups, tokens, warp gates and electro-bounce units to give your team the advantage in the arena.
Scenario
SOME DAY, ALL SPORT WILL BE PLAYED THIS WAY
It's two years since the last ball was thrown on a Speedball pitch. There are new teams, new stadia and new rules. The arena is bigger, the players are tougher and the action is faster than ever before. The challenge is this: Take control of Brutal Deluxe, the worst team in Speedball history, and turn them into champions!
---
Playing the Game
COACHING MANUAL - Issued by the Speedball Players Association 2100 Edition
| Option | Description |
| --- | --- |
| 1 PLAYER GAME | Takes you to the SELECT MATCH screen |
| 2 PLAYER GAME | Takes you straight into a game between 2 teams of equal abilities, either as a solo match, or the best of three, or the best of five. The teams swap ends at half time. See PLAYING A MATCH |
| DEMO GAME | If you don not make any selections, the game enters demo mode automatically after a short time. Press ESC to exit the demo |
Select Match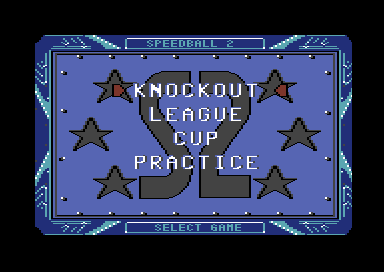 In a single player mode you control the blue team. There are five basic game types:
| Option | Description |
| --- | --- |
| KNOCKOUT | This takes you into a match against the computer, via the gym (see THE GYM). If you want to skip training, just press the ESC key on the gym screen to go directly to the action. In a knockout game you face a series of ever-tougher matches and continue playing until you lose (see PLAYING A MATCH); it\x92s a way of familiarising yourself with the action without having to take part in a league or cup competition. You cannot load or save a knockout game |
| LEAGUE | In both League and Cup you control Brutal Deluxe - one of the less fancied sides in Division 2. Each season lasts 14 weeks. If you finish in first place you enter a playoff against the team second from bottom in the First Division. Finish bottom and the shame will haunt you for the rest of your career! 10 points are awarded for a win and 5 points for a draw, plus 1 for every 10 you score; point difference is significant if you tie on points with another team. See MANAGEMENT |
| CUP | This is a knockout tournament which consists of 4 rounds. In each round you play one match over 2 legs. If you draw you play a decider. One player only |
| PRACTICE | This is like an instant game, except there\x92s no opposition; it\x92s just you, the ball and as much time as you need to perfect those trick shots and passes |
Cup and League Sub Menu
| Option | Description |
| --- | --- |
| New Game | Starts a new game |
| Team Game | A new game where you play as the team manager and the computer manages the team on the pitch |
| Load Game | Load a previously saved game (on THEC64 use the MENU button to save instead) |
The management side of Speedball 2 allows you to strengthen your squad of 12 (nine members and three subs) by buying and selling players improving their vital attributes. At the start of the game you have a number of credits in the bank.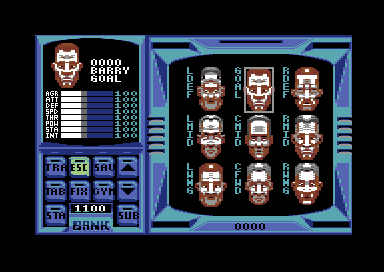 This screen (MANAGER) allows you to select the gym or transfer screens, examine the attributes of Brutal Deluxe and their opponents, and make substitutions. To activate a key, highlight it and press FIRE. The player's positions are indicated by letters next to their portraits.
| Key | Description |
| --- | --- |
| ESC | Play game |
| FIX | Both teams' relative attributes in the next match. By gauging their strengths, you can train your players accordingly |
| STA | Match statistics. Will not be operational until match has been played |
| GYM | Go to the GYM |
| TAB | View League table/Cup fixtures |
| UP/DOWN arrows | Cycle through players |
| SAV | Save game |
| TRA | Go to the TRANSFER screen (only if there are players on the market) |
| SUB | Substitute a player |
Changing team position
To do this, firstly select the player you wish to move by highlighting him and pressing FIRE. Use the UP/DOWN arrow keys to select the player you wish to swap positions with and use the SUB key to make the substitution.
The GYM
The gym screen allows you to improve your squad's attributes. These can be temporarily supplemented on the field with pieces of armour or tokens, but any work you do in the gym is permanent.
You can enhance just one attribute for an individual player, or improve all the attributes for the whole team, or everything in between. In order to train the squad, first select who you want to train: Individual players, Groups of players (Defence, Midfield, Attack, Subs) or the whole team - see GYM Keyboard below. If you want to improve all eight attributes (see attributes box), select the ALL key. If you want to improve specific areas (such as aggression or power), move the joystick RIGHT until you reach the Attribute buttons. Highlight the attribute you want to improve and press FIRE (this illuminates the corresponding area on the training panel). Finally, select BUY or press the attribute button again and the cost is automatically deducted.
GYM Keyboard
| Key | Function |
| --- | --- |
| I | Train Individual players |
| G | Train group |
| T | Train team |
| ESC | Return to MAMAGER screen. If you're playing an INSTANT game, ESC takes you into the match |
| UP/DOWN arrows | Cycle through players/groups |
| FIX | Both teams relative attributes in the next fixture |
| ALL | Increase all attributes by 10 units |
| BUY | Buy individual attributes |
Attributes
A player's attributes determine his/her individual strengths during a match. For example, you might think speed is essential to attackers and attack capabilities vital to defenders. The Attribute buttons allow you to customise your team according to your needs.
| Attribute | Description | Cost | Details |
| --- | --- | --- | --- |
| AGR | Aggression | 5 | Defines whether player will attack opponent in his area. Aggressive players go off and fight their opponents rather than actually playing the game |
| Att | Attack | 10 | This determines how successful you are when trying to take the ball from an opponent |
| DEF | Defence | 10 | The stronger this is, the harder it is for anyone to take the ball from you |
| SPD | Speed | 15 | Determines your speed, slide and jumping distance |
| THR | Throwing | 10 | Players who can throw further are a great asset |
| POW | Power | 10 | A player with more power tackles harder and injures his opponent severely |
| STA | Stamina | 15 | This is defence against power. A player with a high stamina will be injured less severely when tackled |
| INT | Intelligence | 15 | Controls prediction of player position or ball, reaction time, and how far the player can look around him. A smart squad has quicker reactions and moves into intelligent attacking positions more frequently |
The Transfer Screen
The Transfer screen allows you to purchase any of the star players available in exchange for a member of your own team and a cash fee. Star players are characterised by their great strength in all departments and can have higher attributes than normal team members.
To buy a star player, move the up/down cursor until the player you wish to purchase appears in the Star Player panel. Move the joystick RIGHT until you highlight the player you wish to transfer from your own squad and press FIRE. Finally, highlight the BUY key, and press FIRE; money is automatically deducted and the Star Player should now appear as a member of your team. If nothing happens, you can`t afford the transaction, or you are trying to buy a player into the wrong position.
The Transfer keyboard
| Key | Function |
| --- | --- |
| ESC | Return to MANAGER screen |
| UP/DOWN arrows | Cycle through players on offer |
| BUY | Buy a player |
| STA | Match statistics… only available after match has been played |
---
Playing a Match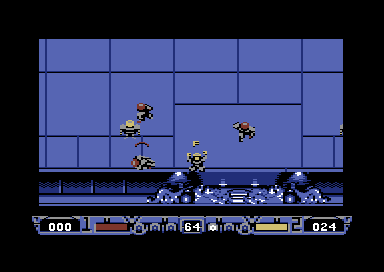 Speedball 2 is played over two halves lasting 90 seconds each. Teams swap ends at half time; the action starts when the ball is launched into play in the centre of the pitch. This happens at the beginning of each period, or after a goal, or after a player has been substituted. The object of the game is to score more points than your opponent - but how you do it is up to you (see scoring points).
Controlling your team
You control the player on your team who is nearest the ball; this is your control player (CP). He/she will be highlighted with an arc in your teams colour above his/her head. When the player has the ball he will have a letter above his head denoting his group\x92s position:
| Letter | Position |
| --- | --- |
| A | Centre Forward |
| M | Midfield |
| D | Defence |
| W | Winger |
| G | Goalkeeper |
Each member of the team can move and throw the ball in eight directions. To throw the ball, press the FIRE button. A short press releases it at waist height, a longer press means the ball is thrown up high in the air.
In addition, a subtle amount of after-touch can be applied to the ball after it has been thrown by moving the joystick UP or DOWN, LEFT or RIGHT. This means that you can direct the ball anywhere you want to,
If your team is not in possession, pressing the FIRE button can have one of three effects. If the ball is in the air near your CP, he/she will jump to catch it. If the ball is on the ground or at waist height, your player will slide to intercept it. If a member of the opposing team has the ball pressing FIRE will attempt a tackle.
The Goalkeeper
The goalkeeper is controlled when he is the CP. When roving away from the goal-line, he can jump up and catch the ball, throw it and tackle as normal; additionally, when the ball is moving, pressing FIRE with the joystick LEFT or RIGHT causes him to dive for the ball. However, he can`t travel outside his own goal area - about a screen's distance from the goal.
Tackling
Successful tackles depend on the relative attack/defence attributes of the two players involved. If you win the tackle, your opponent loses energy, and vice versa. Tackling a player also reduces his/her attributes. You can tackle any player at any time - even off the ball. Players are most vulnerable when jumping and facing away from you.
Injuries/substitutions
When their energy level is reduced to zero, players are unable to move and have to be stretchered off by the RoboDocs. A substitute is brought on as a replacement. For every player you injure, you score 10 points. Substituted player's attributes do not reset to their starting levels after a match.
Saving and loading the game
Games can only be saved or loaded when playing in the League or Cup competitions. Press SAV when in the Manager screen. Press FIRE to save. ESC key to abort. Any previous information will be overwritten. You can save one League or one Cup per disk.
THEC64 allows you to save at any point using the MENU button, rather than using the 
in-game save option mentioned here that restrict your saves to only in the League or 
Cup competitions. The MENU also suspends (pauses) the game at any point.

Scoring points
Scoring a goal gives you 10 points. To help you know where the goal is when you can`t actually see it, there are two white markers at the top or at the bottom of the screen depending on which half of the pitch you are in.
Other bonuses and equipment
Points are also scored by injuring players, or by using the Bounce Domes and Stars. Scores can be multiplied by gaining control of the Score Multiplier.
| Feature | How many | Details |
| --- | --- | --- |
| Bounce Domes | Two on pitch | 2 points every time you hit them |
| Stars | Five per team | Light them to score 2 points each. The team playing upfield hits the cluster at the top left. The team playing down hits the group at the bottom right. A 10-point bonus is awarded for lighting all 5 at once. Teams can turn off each other's stars. This subtracts 2 points from opponents score. Targets are reset at half time |
| The Score multiplier | Two on pitch | This is a simple way to increase every score you make by up to 100%. To activate, throw the ball up the ramp. Your opponents can regain control by throwing the ball up the ramps themselves. Two throws cancel out your advantage, another two increase their score by 100%. Red/blue lights on top of the Score multiplier signal who is in control and by how much. This also affects the electrobounce |
| Electrobounce | Four on pitch | When you throw the ball against one of them, the ball becomes electrified and stays electrified until it comes to a complete stop. When electrified, the ball will tackle the first opponent it hits. If you retain possession of the ball after it has tackled an opponent, it will remain electrified. If the opposition take possession or the ball stops moving it will be cancelled. The Score Multiplier affects the electrified ball as follows; if you have one light lit, it will tackle two opponents; if you have two lights it will tackle three opponents. Opponents can steal the electrified ball by tackling the player who is holding it. |
| Warp Gate | Two in each half | Transport the ball from one side of the pitch to the other. They can be an effective way to disorientate your opponent! |
Injuring players
A team is awarded 10 points for every opponent who has to be stretchered off.
POINTS TABLE
This is a summary of the points system. Standard (Std) points scores can be increased by using the Double Playfield feature once (+50%) or twice (+100%).
| | STD | +DP1 | +DP2 |
| --- | --- | --- | --- |
| GOALS | 10 | 15 | 20 |
| ONE STAR | 2 | 3 | 4 |
| 5-STAR BONUS | 10 | 15 | 20 |
| BOUNCE DOMES | 2 | 3 | 4 |
| INJURE PLAYER | 10 | 15 | 20 |
Pick ups
There are 2 basic kinds of pick-up on the Speedball 2 pitch; tokens and armour/weaponry.
Tokens
Tokens affect the entire team, and almost all of them are fixed by a time limit of 6 seconds. Collecting one which operates on a timer cancels any currently active token.
| Token | Description |
| --- | --- |
| Freeze team | Freezes opponents for a limited period |
| Reverse joystick | Reverses opponents' joystick (two-player game only) |
| Reduce team | Reduces all opponents' attributes to minimum |
| Increase team | Increases all your players' attributes to maximum |
| Manic | Increase both players teams to maximum |
| Slow team | Reduces all opponents players speed ratings to minimum |
| Grab ball | Gives you possession of the ball |
| Transport | Tansports the ball to your centre forward |
| Goal Door | Prevents the ball entering your goal |
| Shield | Makes your team immune to tackles |
| Full energy | Boosts a single player's energy and attributes to initial values |
| Zap team | Tackles all on-screen opponents, reducing their attributes as if a player had tackled them |
| Coins | Coins aren't strictly tokens, but they are worth a whopping 100 credits (200 in a cup match). Computer teams can pick them up, but don't use them, except to restore injured players attributes, preferring to invest their money overseas. As a result, they can't buy Star Players or enhance their attributes. |
Armour and Weaponry
Items of armour affect individual players are to be found lying around on the pitch at various intervals. Both teams can pick them up and benefit from their effect, until they are tackled and forced to drop them. Items can be picked up a maximum of twice only.
| Item | Description |
| --- | --- |
| Boots | Enhance speed |
| Helmet | Greater intelligence |
| Chestplate | Increases defensive ability |
| Shoulder | Stronger attacking ability |
| Glove | Increases power |
| Bottle | A glucose solution providing extra stamina |
| Armplate | Gives greater throwing ability |
| Bitmap shades | Enhances aggression |
---
Control summary
Players can move, throw, slide and tackle in 8 directions, and apply after-touch to the ball, pressing the FIRE button has varying effects according to the circumstances.
| Scenario | Effect |
| --- | --- |
| In possession | Throw ball |
| Not in possession | Tackle |
| Ball on the ground | Slide |
| Ball in the air | Jump for the ball |
Keys
| Key | Description |
| --- | --- |
| RUN/STOP | Escape to the Main Menu |
| P | Pause Mode |
| Space or FIRE | Unpause |
---
Division 1
Powerhouse
Many followers of the league reckon that Powerhouse are well overdue for relegation. Due to several violent clashes with lethal Formula, their defence is severely weakened and their attack is unable to summon the strength that nearly brought them victory.
Rage 2100
Despite a reputation for being extreme , the other qualities of the team have prevented them from ever scraping themselves off the lower ranks of division 1. Their power and attack are notable but they are no longer an effective first division team.
Mean Machine
Due to a series of defeats and their defenders and midfielders have become a liability to the team. They have suffered fewer injuries than most teams because of their defensive abilities and stamina.
Explosive Lords
Although on paper this team is very average, some have doubted the ability of their attack. The light build of this squad has resulted in a slightly faster team that generally avoids contact.
Lethal Formula
Taking after their name, this is the most destructive team in division 1. Their attack squad contain players who combine extreme aggression, power, intelligence and attacking abilities. Many players have fallen under the blows of Lethal Formula.
Turbo Hammers
The best defensive squad in the whole history of Speedball, few balls get past the grabbing hands of the Turbo Hammers. Once they have the ball, few are able to recover it and long throws down the pitch have set up many goals. The midfield complement the strong defence and the attack are competent but nothing special.
Fatal Justice
An attack that is second to none has sometimes placed Fatal Justice at the top of the league. Speed, intelligence and power have given them a string of victories though their defence has now been quite as effective.
Super Nashwan
The superstars of the league, spending every day in training and tactics sessions has resulted in a team that relies upon sheer skill rather than brutality. To have played Super Nashwan is to have played the best, their position in the league has sometimes been challenged by Fatal; Justice and Turbo Hammers, they have no apparent weaknesses.
Division 2
Revolver
Basically the worst team in the Speedball league. Midfield and attack are appalling, the only redeeming feature is a slightly less than average defence which have shown some signs of intelligence.
Raw Messiahs
Another hopeless team, their extreme aggression is let down by their low power. Their defence is the lowest in the division and the rest of the team hardly rise above this level. A team that will provide little resistance to a concerted attack.
Violent Desire
Despite their name, this team is unaggressive and weak in their attack, their defence has proved its strength in past seasons but this average team has never risen to the upper ranks of the division despite the defence's above-average speed and throwing range.
Baroque
A team that has specialised in lightning attacks for a couple of seasons. They are intelligent but their defence has generally weakened the side. They have occasionally threatened Steel Fury for the top position in the division.
The Renegades
With one of the best attacking formations in the division, the Renegades are rated highly among Speedball experts. This attacking strength is let down by an average defence. Fast, intelligent and aggressive, few can stop The Renegades.
Damocles
The defensive squad of this tem are legendary, few shots get past their excellent goalie. The defenders have some of the best throwing arms in the division and can down most attackers. Intelligence combined with speed make Damocles formidable in all areas.
Steel Fury
Steel Fury have sat at the top of division 2 for three seasons in a row, after a frantic spending spree they now have a first rate team. The fast super intelligent attackers have broken nearly every team in the league. They are supported by an experienced and unshakeable midfield.
---
Credits
PROGRAMMER: Carl Muller
GRAPHICS: Alan Tompkins
MUSIC: Martin Walker
Original code, design and concept - The Bitmap Brothers
Original design - Eric Matthews
Original additional design - Steve Kelly, Graeme Boxall
Original programmer - Rob Trevellyan
Original additional code - Mike Montgomery
Original graphics - Dan Malone
Original music - Nation 12
Original music code and FX - Richard Joseph
Thanks - Nick P, Maryin H, Tom W, Simon H, Theo C, Arnold S, Harry C and the voice 
of James O'Donnell.